With the worlds of fashion and tennis almost being one and the same for some designers, and many players as well, choosing the five best dressed from 2010 is no easy task. These days, designers and the fashion industry have both ensured that today's top players always look good, both on AND off the courts. That being said, the top five that have emerged as 2010 best dressed have set a pretty high bar. They aren't just pretty, they are world class talent, and their personal style shows time and time again that winning good, means looking good while you're doing it. Here are the top five best dressed 2010 men and women of tennis.
5. Andy Roddick. A known tennis champ with a world renknowned fashionista wife on the side. Brooklyn Decker a world famous model has influenced her husband's style off the court. As a result he has recently been named as the face of the most long running tennis brand, LaCoste for the LaCost fragrance "Challenge".
4. Serena and Venus Williams. These tennis sisters and all star athletes are certainly a brand of their own when combined. Ever since they first hit a public court they have been changing the way fashion influences the world of tennis. From their long beaded braids to daring outfits, these sisters have raised more than a few eyebrows over their career. But it's worked for them, as Serena herself was seen spotted next to Vogue editor Anna Wintour, and personally asked to model by Editor at Large god to fashion Andre De Leon Tally. These sisters have become fashion icons in their own right.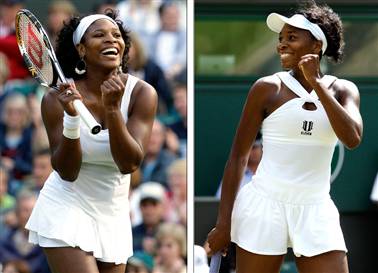 3. Roger *Swiss God* Federer. Being ranked three on a top five list may not fare well for the always competitive Federer, but when you consider the rank goes to third best dressed tennis player in the world, not too shabby. And it should come as no surprise as well to him, as Forbes have just placed him on their best dressed list as well. It is his personal style of crisp clean colors that are fitted to perfection that earmark him for this honor. Pair that with his charisma and classic look, he makes women swoon all over the world, and has well earned this best dressed honor.
2. James Blake. Though all eyes are generally on his back swing, in some cases, James Blake has the ladies checking out his personal style. And more often than he may think. After collaborating with Fila, Blake found a way to bring his own vision and inspiration to both his look, and his game. James worked directly with Fila to create a streamlined look that doesn't just work for women, but looks great on men as well. This "Carolina blue" is one of James' favorite colors, and you will see him in it often, when he isn't on the Wimbledon courts. Here is a man that pays flawless attention to detail, not just on the courts, and had a hand in decision making with Fila threads with everything from reverse stitching, to a button free polo. Though the details are subtle, they make for a very strong look landing James in the number 2 spot for best dressed.
1.
Caroline Wozniacki
.
The coveted spot of number one best dressed tennis player goes to
a young

athlete who

se
court style was developed by a renowned designer Stella McCartney.

Stella did her best for Caro to

always look stunning

on the court,

and

she

manages to pull off sleak court looks that not only mirror current trends, but inspire new ones as well. Read more about Caroline Wozniacki and what is coming from Stella McCartney in 2011 in our next post.