Female tennis players
with medium to long hair often face a challenge when it comes to controlling their tresses on court. It can be difficult to find an attractive and comfortable style that requires minimal maintenance. Here are a few styling ideas for tennis or other active outdoor sports!
Mini-braids
– Separate the bangs or front portion of hair into small sections and braid each section as far as you like, securing with very small hair bands. Gently brush back the remainder of the hair, and secure into a neat pony tail. Practice makes perfect in determining how many sections are right for your hair. Make use of hairspray to strengthen the hold!
Braided Pony Tail
- Another great and very easy style often used by Anna Kournikova, Caroline Wozniacki and Victoria Azarenka. Pull hair into a medium-high pony tail, and secure with an elastic band. Then braid, and secure with another elastic band.
These styles simply require pulling hair into a pony tail – add bobby pins or clips to control flyaways if desired.
| | |
| --- | --- |
| High Sleek Pony Tail | High Pony Tail with Headband |
| | |
This is a beautiful style to sport on the tennis court! Here are the steps to achieving this look with diagrams!
Apply a control serum to clean hair, and brush out any knots or tangles. Brush your hair back so that there is no part.
Separate a section from the top of the head into three strands, crossing the right over middle and the left over middle, as in a standard braid.
1.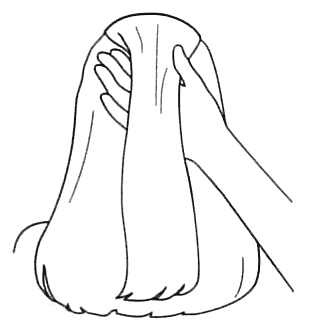 2.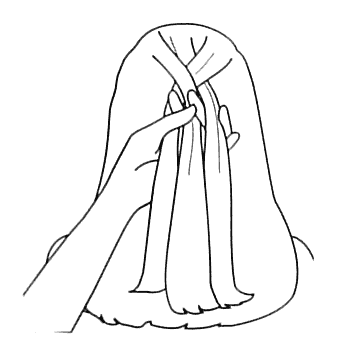 Gather a small section from the right side of the head with your right hand, adding it to the right strand. Bring that strand over to the middle and bring the middle strand to the right.
3.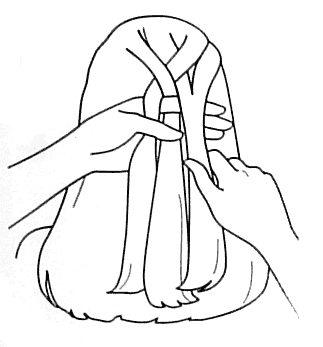 4.
Switch hands (keeping all strands separated) so that the left hand is free. Gather a section of hair from the left side and add this to the left strand.
5.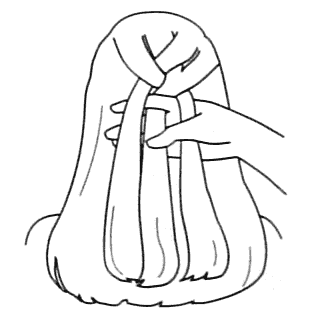 6.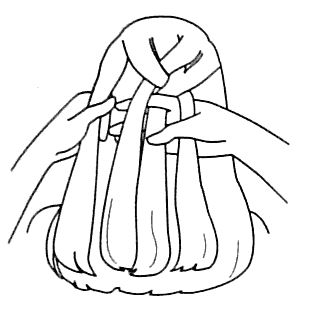 Bring the left strand over to the middle and the middle section to the left. While braiding, try to keep your hands close to the head so the braid will be tight. Repeat these steps on the right and on the left and so on, until there is no hair available to add. Fasten with an elastic band.
7.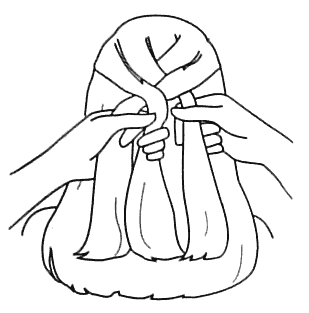 8.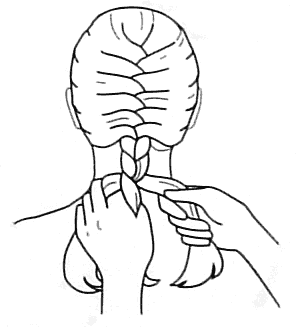 Messy Bun
A hairstyle often sported by Bethanie Mattek-Sands.
To do it, pull your hair into a loose ponytail and secure it with an elastic at your crown. Twist and wrap your hair into a messy bun, then loop the ends through the elastic.
Run your fingers through the front of your hair to loosen it from the elastic, and add texture. Slide in a thin headband two inches from your hairline. Slide a second thin headband three inches behind the first one (you can also use visor instead of the headbands).
Ad
ditional Hair Care Tips for Sports
Sprits hair with spray gel before styling into a pony tail or braid for better control!

Check out your local dollar store for hair clips, barrettes, pony tail holders and stretchy or plastic headbands for a very reasonable price!

To help get your hair into a neat, high ponytail, hang upside down on your bed, brush it smooth and secure!