Jean René Lacoste was born into a wealthy French family on July 2, 1904. He played his first tennis match at the age of 15 and became passionate for the sport with hopes of building a career in tennis. His father
allowed him a mere five years to become a world champion.

Lacoste didn't

have a natural ability for tennis, but he did have an obsessive work ethic. He was the first tennis player to make bodybuilding, running and skipping a part of his training routine, and he spent hours hitting balls against the walls of the family home.
René Lacoste quickly became an important member of the French tennis team and made regular trips to America for Davis Cup matches. He
was one of The Four Musketeers, a powerhouse of French tennis stars in the 1920s and early 1930s. His fellow musketeers were Jean Borotra, Jacques Brugnon and Henri Cochet. Lacoste ranked number one on the French team in 1925 and catapulted to world number one in 1926 and 1927 – well within his father's time limit. He won seven grand slam single's titles in the French, American and British championships but never played in Australia.
Fellow players were not impressed with Lacoste's on-court style. His technique was purely based on consistency and outlasting his opponent At one point, a bet was made with the Captain of the Davis Cup team, in which Lacoste was promised a suitcase made of crocodile skin if he won a particular match. He never got the suitcase, but he did receive the "crocodile" nickname from the American press due to his on-court tenacity and unwillingness to give up his prey. His friend, Robert George, designed a crocodile which was then embroidered on his tennis blazer.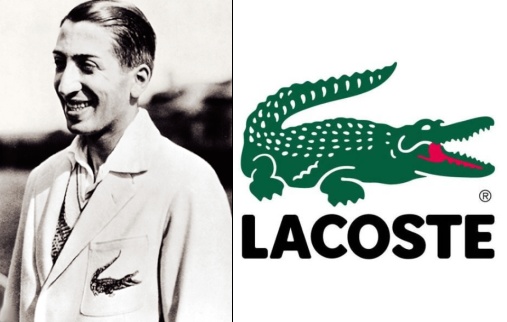 In 1929, Lacoste became ill with chronic bronchitis and suddenly retired, which was a great loss to the French team. He returned to competition in 1932, made it through three rounds at the French Championship, and again fell ill, giving up tennis for good. He became Davis Cup captain in the 1930s and President of the French Tennis Federation until 1942.
In 1933, René Lacoste founded
La Société Chemise Lacoste
with André Gillier, the owner of a large French hosiery company.
As an alternative to the
men's long-sleeved, starched cotton shirt of the day, they produced a shirt which is now the classic polo. This simple shirt was designed with all of the elements of tennis in mind: it was made with breathable knit piqué cotton, short sleeves, and a comfortable, soft collar which could be turned up to prevent sunburn. The back of the shirt was longer than the front, which kept it more securely tucked into the pants while serving. E
mbroidered with an alligator logo (similar to the original crocodile), it was one of the first items of apparel to have a brand displayed on the outside. The shirt quickly became popular among tennis players, and the company grew - expanding internationally in 1952.
René Lacoste
was a creative and shrewd
businessman who also invented the ball throwing machine in 1927 and the anti-vibration pad in 1960. In 1963, he designed the first steel tennis racquet, featuring a revolutionary round head and a split shaft. With a unique delivery of mass and maneuverability and a system for fixing the strings, the racquet had better performance than many wooden racquets of the day. Distributed by Wilson in the U.S., the steel racquet was popular with Jimmy Connors and Billie Jean King and won 46 grand slam titles between 1966 and 1978.
Lacoste married French golfing champion, Simone de la Chaume, and their daughter, Catherine, was also a champion golfer. René Lacoste died at the age of 92, on October 12, 1996. Roughly twenty years prior to his death, the Four Musketeers were simultaneously inducted into the International Tennis Hall of Fame in Newport, Rhode Island.
Unlike many fashion companies, Lacoste is one that can boast a truly recognizable brand which is impossible to confuse with any other. For now, the Lacoste name and logo is associated with fashion, fragrance and sports – but who know what may develop in the future!
Current Lacoste Tennis and Casual Wear
Check out our picks that would match both tennis and casual wear!
For Guys
For Ladies
Lacoste 5-Button Stretch Pique Polo Shirt (available in a variety of colors)

- $59

Technical Pique Wrap Tennis Skirt - $75
Lacoste Stretch Pique Polo Dress (available in pink, light blue, navy blue and black) - $108
Lacoste New Classic Roll Bag II (available in black, white and pink) - $95