1528


King Henry VIII builds a tennis court at Hampton Court Palace and commissions suits—most likely "tall stockings, short blist'red breeches," as in Shakespeare's Henry VIII—for the ensuing matches.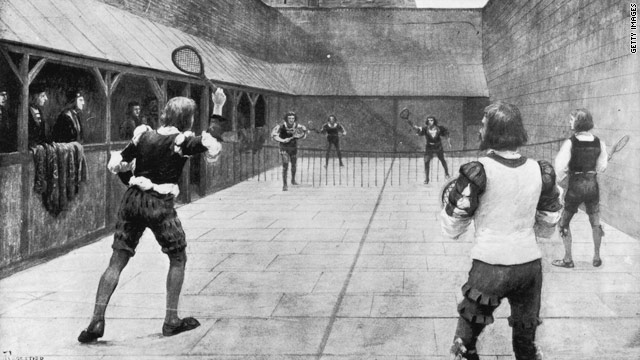 An illustration of a game of Real Tennis being played during the time of King Henry VII, circa 1500
1867
A sturdy canvas and rubber shoe called a croquet sandal is introduced and sells for six dollars a pair, making it too expensive for all but the very wealthy. The shoe later became known as the tennis shoe. The original sneaker offers players a solution to unsightly grass stains.
1886
Women dress in aristocratic style—ground-grazing skirts with voluminous bustles, corsets, high necklines, and floppy hats. The game is rechristened "pat ball" as women gingerly tap the ball over the net.
1919
Suzanne Lenglen wins Wimbledon in a knee-length dress with three-quarter sleeves and a widely imitated bandeau. (Women reportedly walk out, calling the display "shocking.") Suzanne was the first woman to play without a corset under her tennis dress
.
1920
Big Bill Tilden ushers in the golden age of tennis sporting a preppy array of cable knits and V-neck sweaters.
Sandy Wiener and Bill Tilden on the courts in 1923 (Library of Congress)
1927
René Lacoste earns the nickname "the Crocodile" after he makes a pre-match bet over a crocodile-skin suitcase. He later has a croc emblem embroidered onto his shirts and blazers.
René Lacoste wearing the first "crocodile" which will become an icon. Forest Hill, 1927
1933
Helen Jacobs breaks out Bermuda shorts at Forest Hills. The Prince of Wales later weighs in: "They are ... quite the most practical costume for the game, and I don't think the wearers lose anything in looks."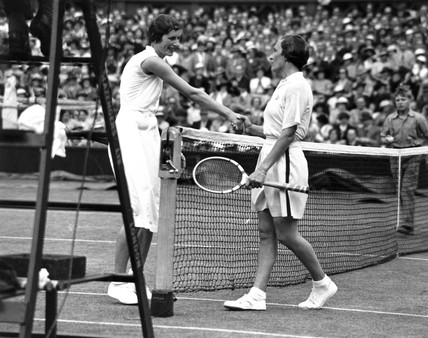 Helen Jacobs at Wimbledon, 1933.
1949
"Gorgeous" Gussy Moran asked the Wimbledon organizers if she could wear colored clothing. Her request was turned down, so tennis fashion designer Ted Tinling created a dress incorporating lace-trimmed knickers which even triggered a debate in parliament. Photographers lie flat on the ground in order to shoot her knickers.
Gertrude "Gorgeous Gussy" Moran
1958
Karol Fageros
was raising eyebrows at the All England Club - with her
gold lame underpants
. She was immediately kicked out of the tournament, but earned a reprieve when she agreed to cover up her sparkly undies with some more demure white lace.
1
968

Arthur Ashe wins the first U.S. Open sporting an ahead-of-its-time hipster ensemble: short shorts and bookish black-rimmed glasses.
1970
Television viewers complain that they can't tell the players apart in their all-white suits. For the first time, the U.S. Open permits pastel.
1976
Sweatband-wearing Swedish heartthrob Björn Borg takes the first of five consecutive Wimbledons. Later, he founds a clothing line known for its boldly patterned underwear.
1981
An unusually festive John McEnroe wins his first Wimbledon singles title on the Fourth of July wearing a blue-and-white striped polo shirt, matching tube socks, and a red sweatband.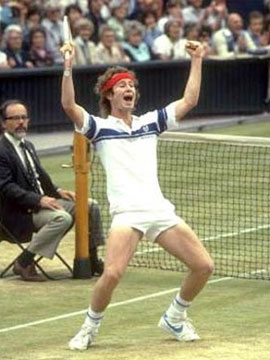 John McEnroe winning his first Wimbledon in 1981
1985
Leggy blonde Anne White takes the court at Wimbledon in a curve-hugging white unitard, distracting her opponent, Pam Shriver. Though the attire satisfies requirements, officials request that she dress more traditionally the following day.
1987
Chris Evert halts play at the U.S. Open when she loses her diamond-studded wristlet on the court. Jewelers like Tiffany & Co. and Bulgari promptly create their own versions of the "tennis bracelet."
1990
Andre Agassi plays the French Open in hot pink. The tournament's director says he might institute a white-clothing rule. Agassi calls him a "bozo" and segues, briefly, into a lime-green phase.
1991
In a hotly anticipated moment, Agassi removes his warm-up suit at Wimbledon to reveal an all-white ensemble, with white Lycra shorts peeking out from under white denim; the crowd erupts in applause.
2002
U.S. Open champ Serena Williams plays in a shiny, skintight black bodysuit: the infamous "catsuit."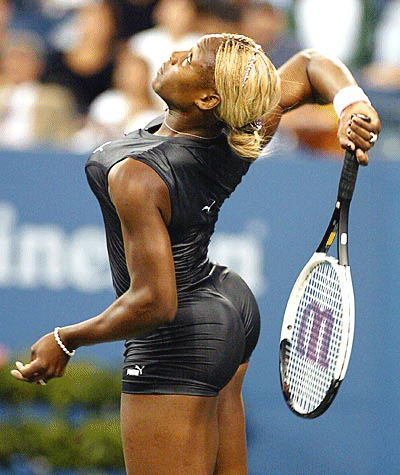 2004
Bethanie Mattek arrives at the U.S. Open poured into a formfitting leopard-print ensemble. She loses, but continues to dress for future Opens as though attending a Halloween party.
2007
Maria Sharapova fails to defend her U.S. Open title despite wearing a Nike dress encrusted with 600 Swarovski crystals, inspired by the Manhattan skyline. The bright red-flame color represents the Big Apple.
2007
Tatiana Golovin became the forth woman (after Gussie Moran, Karol Fageros and Anne White) who shocked British public, as she broke the rule of "mainly white" Wimbeldon dress code by wearing red knickers.


2010
Venus Williams has been constantly raising eyebrows by wearing skin-colored hotpants during Australian Open, then wearing the same hotpants with the dress which according to Examiner.com "better suited for a dancer at the Moulin Rouge", and choosing to wear form-fitting pink, sequined dress with matching bedazzled shorts during the US Open.
Used info from http://nymag.com/fashion/08/fall/49260/ and www.mirror.co.uk pictures from different sources from the web.